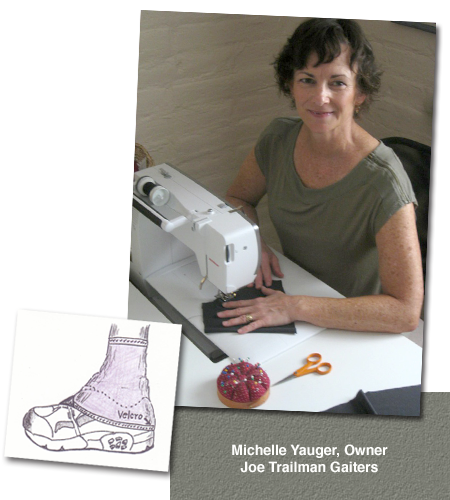 About Joe Trailman Gaiters
Joe Trailman Gaiters were designed in the late 1990s by an experienced trail runner who needed a gaiter that was lightweight, stretchy, and breathable. After making some prototypes and asking friends to test them on trails, Joe finally came up with a gaiter that performed to his standards. Soon, his gaiters began attracting attention at running events, and other runners wanted to know where they could get a pair. For 16 years, Joe and his sister Ann made hundreds of pairs of gaiters.
In 2014, Michelle Yauger became the new owner of Joe Trailman Gaiters. She handles every aspect of the business, from fabric selection, layout, and sewing to answering emails and packaging orders for shipment. Michelle is pleased to continue the Joe Trailman tradition of manufacturing excellence, using Joe's original patterns and design.
In addition to making a product she can be proud of, Michelle takes great pride in her one-on-one approach to providing excellent customer service. Most orders ship within one business day, and she can usually respond to a customer inquiry the same day it's received. Need a slightly smaller ankle seam? Wish your gaiters could have a couple extra strips of Velcro along the sides? Just ask. She loves hearing from customers and will be happy to answer any gaiter-related questions you might have.